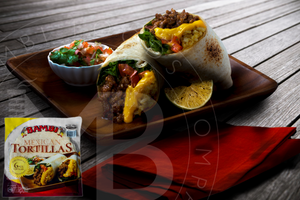 Tasty Tortilla that wraps around you!
           This thin unleavened flat bread is made from specially treated and enriched wheat flour and whole wheat flour designed to meet the clients preferences. Our tortillas are larger in circumference and thinner without breaking too easily and ideal to make dishes such as soft tacos, Fajitas, burritos and enchiladas.
To meet the demands of this modern lifestyle, we have mechanized the traditional process and have come up with a medium scale tortilla making machine which can produce cooked tortillas every 10 seconds. We also have introduced many flavors and varieties such as healthy basil, spinach and Sun Dried tomato which has now become a mainstream food.
---